The search for healthy, glowing skin starts here.
While there are many ingredients that promise to promote a smooth complexion, few actually follow through. Zinc oxide, however, is an often-overlooked hero ingredient that can help support healthy skin.
Read on to learn more about the benefits of zinc oxide and how it can be incorporated into an everyday skincare routine.
Zinc Oxide 101
Zinc oxide is a not-so-secret ingredient that has been used for decades to prevent minor skin irritations. According to the Cleveland Clinic, zinc oxide cream can help heal or soothe cuts, burns, or diaper rash. It's also a popular ingredient in sunscreen since zinc oxide works to protect skin from the sun's ultraviolet rays.
However, that's not where the benefits of zinc oxide end. This amazing ingredient can also be used as part of a skincare regimen to achieve a glowing complexion.
Zinc Oxide Skin Benefits
What does zinc oxide do for skin?
Zinc oxide works double duty to both protect and heal the skin. This begins by forming a barrier to protect the skin from any irritants. Since zinc oxide is a mild astringent with some antiseptic properties, it also encourages the healing of skin disorders.
Here are a handful of zinc oxide skin benefits to consider.
Sun Protection
Of course, one of the primary benefits of zinc oxide for skin is its ability to block harmful UV rays. It can be used as a physical sunscreen as it forms a barrier on the skin to reflect and scatter both UVA and UVB rays. It effectively prevents these rays from penetrating the skin and causing damage.
Utilizing sun protection every day is essential for not only preventing sunburns and the risk of skin cancer, but also to mitigate signs of aging such as fine lines, wrinkles, and dark spots.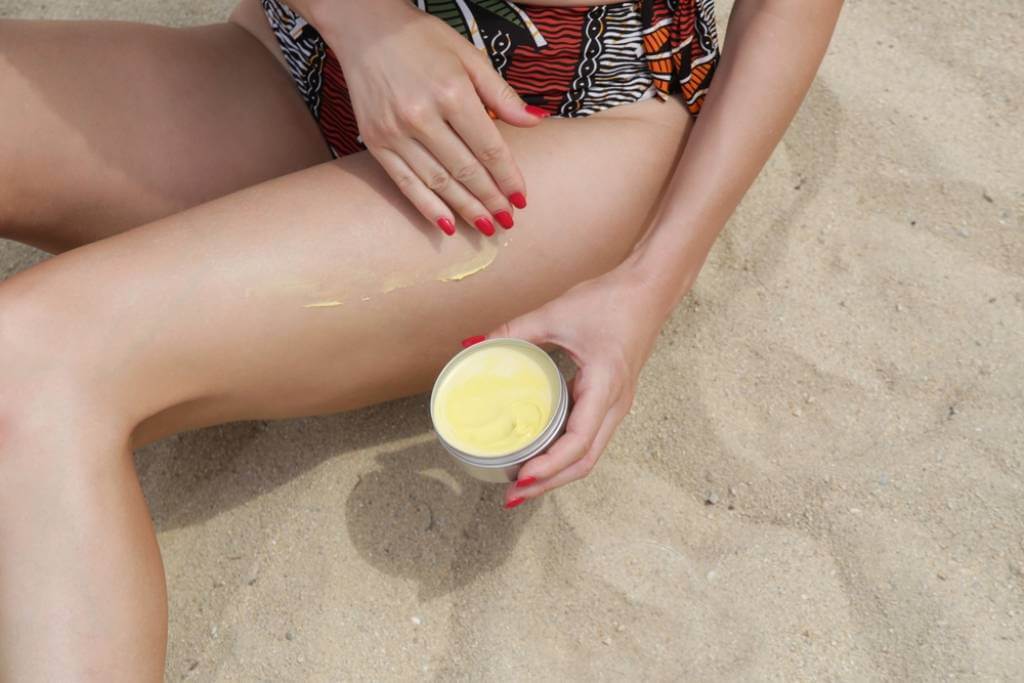 Soothe Irritation
Zinc oxide can also soothe inflammation that is triggered in response to breakout-causing bacteria and clogged pores. This also makes it an ideal skincare ingredient for those with sensitive skin.
The anti-inflammatory properties of zinc oxide can help reduce redness and itching to help achieve comfortable, glowing skin.
Skin Healing
This super ingredient can also promote the regeneration of skin cells and tissue repair. This is what makes it great for treating minor cuts, scrapes, and burns as previously mentioned. It can also be beneficial for helping heal acne lesions.
These wound-healing properties in addition to reducing inflammation can aid in the overall skin healing process.
Oil Control
Zinc oxide is also a common active ingredient in both makeup and acne treatment because it can help to regulate the skin's oil production. It provides a mattifying effect and can control excess oil production to reduce a shiny or greasy appearance.
Stop Bacteria Growth
Finally, the antimicrobial properties of zinc oxide can't be overlooked. This means it can help inhibit the growth of bacteria on the skin, which is incredibly beneficial for acne-prone skin. This hero ingredient can be found in acne treatments and can even help prevent and treat certain skin infections.
Zinc Oxide Uses for Skin
Zinc oxide is a truly versatile skincare ingredient and it is also suitable for most skin types. Here are some ways it can be used in an everyday skincare routine.
Sunblock
Wearing sunblock every day is one of the best ways to protect the skin from harmful UV rays. There are also plenty of convenient day creams, like Porcelain Sunblock, where zinc oxide is the main ingredient to provide light coverage and sun protection.
Acne Treatment
It also acts as an astringent to shrink, constrict, or tighten the appearance of damaged skin and lower the appearance, severity, and duration of cystic and hormonal acne. With continued use, zinc oxide reduces the likelihood that acne will reappear once the skin builds resistance to antibiotics.
Look for acne treatments such as Clear myZit Night Masque which utilizes zinc oxide to target inflamed breakouts overnight.
Skin Healing
It can also help reduce the appearance of fine lines and heal skin that is in need of some extra TLC. As an ingredient in Petale Blanche Night Repair, zinc oxide helps to moisturize and firm the skin while protecting and nourishing the delicate skin around the eye area.
Shop more TS Skin Care products to incorporate effective, natural skincare ingredients like zinc oxide and more into a daily regimen.