Cleansing the face at least twice a day is one of the best ways to help support a clear complexion. It should be an essential part of both morning and evening skincare rituals.
Even with a perfect morning skin care routine, one may be tempted to use the same steps and products at night. However, this isn't always best for the skin. Let's explore the difference between a morning and night skin care routine and why they're both equally important.
Why Skin Care Routines Should be Different
Simply put, the skin has different needs depending on the time of day.
Speaking to Martha Stewart Magazine, board-certified dermatologist Julie Russak explains, "When you sleep, your skin detoxifies, so if you don't wash your skin in the morning those toxins just sit there and build up."
Cleansing the skin first thing in the morning is ideal for softening pores and removing these toxins and build-up. It also provides a smooth canvas for other skin care products and makeup.
In the evening, the focus of a skin care routine is on removing environmental factors that build up during the day. This can be things like makeup, dead skin cells, and oil. At the same time, using products like night creams and face masks that work to hydrate the skin can smooth fine lines and wrinkles during sleep.
Skin Care Routine: Morning vs Night Time
A skin care routine in the morning may not differ drastically from one at night.
Small differences to a skin care routine order and products can make all the difference when it comes to having a healthy, hydrated complexion.
The most important distinction between a morning and evening skincare routine comes down to use of SPF, toners, and creams:
Morning
Use a day cream or moisturizer containing SPF
Night cream can be used during the day under our day cream if the skin is especially dry
Toner can be used if preferred
Evening
Night creams better for the skin than day creams and SPF is not needed
Avoid using toner to retain oils on the face overnight
Sleep overnight with a face mask
Here are the ins and outs of how a skin care routine should differ depending on the time of day:
The Ideal Skin Care Morning Routine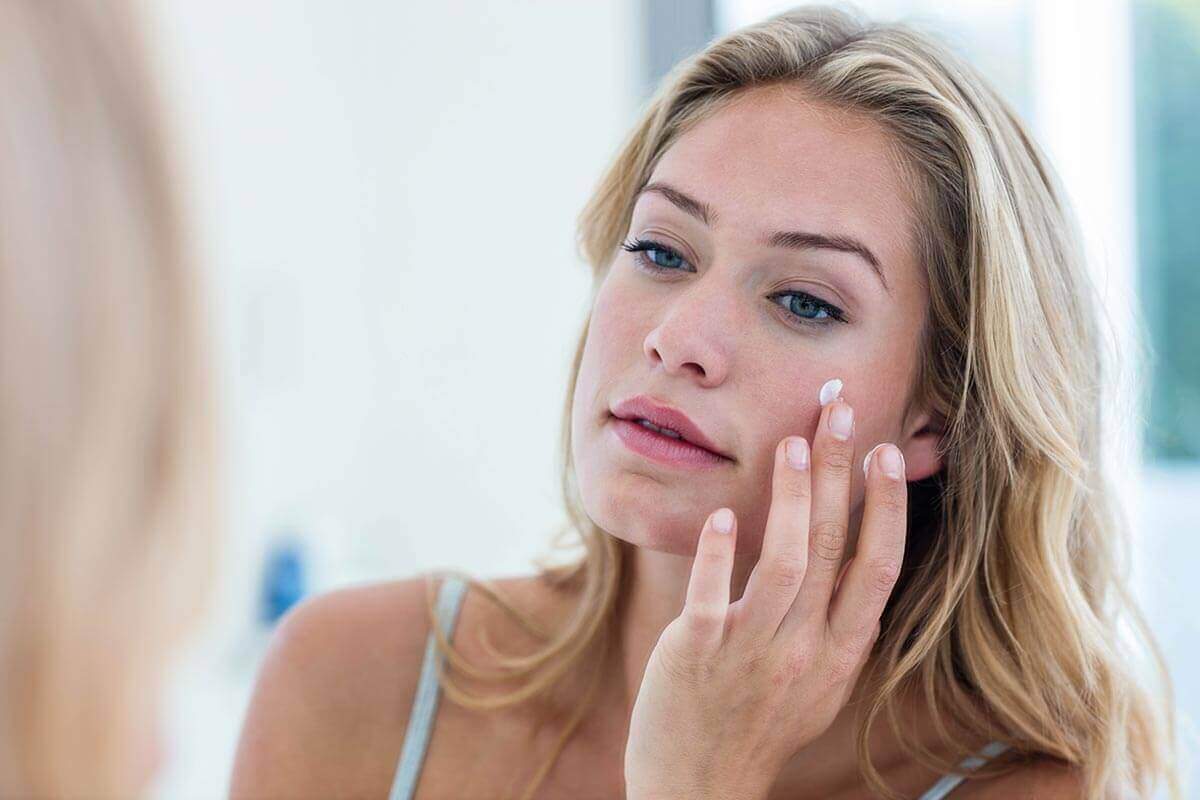 A skin care routine in the morning is all about cleansing and protecting the skin for the day to come. Start the routine with a gentle cleanser applied with a 100% cotton wrap that exfoliates the skin and a Spritzer to moisten and hydrate the face.
Cleansing is perhaps the most important step in a morning skin care routine, so it's important to find the best facial cleanser by skin type. Use firm, circular motions to cleanse the skin until the face is clean. This is perfect for stimulating circulation and blood flow before hopping into the shower.
With a fresh face, it's time to apply a toner to the face and neck to remove any lingering residue,  help absorb serums, and remove all final traces of the mask. Next, focus on favorite products and protectants. If appropriate, use a few drops of a facial serum to minimize fine lines and wrinkles while plumping the skin.
A unique step in a morning skin care routine is applying sun protection and day cream. Warm a pea-sized amount of treatment between the fingers, dab it on the face and neck and gently massage it in. This offers the perfect combination of protection and hydration the skin needs throughout the day.
Finally, use a Spritzer and massage the skin until the treatment is fully absorbed. Tweak the routine to fit the skin's needs by using less cream or more Spritzer if it feels oily and more hydration if it seems dry.
Perfecting An Evening Skin Care Regime
At night, the focus is on cleansing, hydrating, and nourishing the skin. The routine should start off with cleansing once again to remove any makeup and build-up from the day. After moistening and cleansing, it's time to focus on cell renewal.
Consider using a serum that can speed up cell repair and slow the signs of aging during sleep. Some serums are best kept refrigerated and should always be massaged into the skin for maximum benefit.
Apply a pea size amount of a favorite night cream and massage it in. Use a Spritzer for added moisture and continue massaging until it's fully absorbed. This step is essential for hydrating the skin overnight.
As a final, important step, use a face masque overnight or while lounging around the home. Just make sure to avoid the eye area during application. Masking helps the skin detoxify and heal overnight while evening skin tone and promoting cell turnover.
Find the right morning skin care routine and evening regimine today!