When looking for natural skin care products, searchers no doubt come across jojoba oil (pronounced ho-HO-ba).
Not too long ago, oil was seen as the enemy of a clear complexion. But, as we learn more about natural oils and their benefits, incorporating them into our beauty and skin care routines is a no-brainer.
Jojoba oil, in particular, is an especially powerful natural oil that can do wonders for the skin, especially for those prone to acne. Read on to learn more about the benefits of jojoba oil for skin care and how to use it every day!
Everything to Know About Jojoba Oil
First things first, jojoba oil isn't actually an oil at all — it's a liquid wax ester. Jojoba products are extracted from the bean-like seeds of the desert shrub Simmondsia chinensis. The jojoba plant is native to southern Arizona and California, as well as northwestern Mexico since it thrives in hot, dry desert climates.
Though we're just beginning to see jojoba oil in the beauty aisle, it's been used by Indigenous people for centuries due to its many benefits (which we'll touch on later). What makes jojoba oil truly unique is that the wax ester differs from natural oils. The beauty experts at Byrdie explain that wax esters are the main component in human sebum, which is the oil our bodies naturally produce to keep the skin hydrated.
Does Jojoba Oil Dry Skin?
Nope! While some oils can dry out the skin and hair, products made with jojoba oil are great for moisturizing the skin. Jojoba oil is easily absorbed so it can help hydrate skin and because it resembles our own natural sebum; it doesn't feel greasy.
Jojoba Oil Benefits for Skin
Is jojoba oil good for skin? Yes!
Jojoba oil is commonly used in beauty, hair, and skin care products. It's versatile and gentle enough to be used by most skin types, making it a popular hero ingredient in acne products.
Today, we'll be focusing on jojoba oil for skin benefits. Here are a few to know about.
Soothes Skin
Jojoba oil has anti-inflammatory properties that make it a popular ingredient in acne products. It can also help soothe and calm other skin conditions like eczema and rosacea. Jojoba oil is an amazing source of vitamin E which reduces inflammation and is incredibly beneficial to the skin.
According to Forbes, jojoba oil can also work to prevent acne. Using jojoba oil prevents the needs for additional sebum production and excess oil that could potentially clog one's pores.
Hydration
As we said, jojoba oil is great for hydrating the skin. It can help create an effective barrier for skin protection, locking in the benefits of moisture ensuring the skin is hydrated longer and avoiding the damage of dry skin.
Reduce the Appearance of Fine Lines and Wrinkles
Jojoba oil is also used in skin care products for its anti-aging properties. Its hydrating abilities work to soften and smooth the skin. Many people are starting to use jojoba oil as a treatment for crow's feet, wrinkles, and even stretch marks.
Wound Healing
Healthline explains that jojoba oil is high in vitamin E, silicon, copper, and zinc. This is a winning combination when it comes to healing the skin. Jojoba oil's antibacterial and anti-inflammatory properties are why it was originally used by Indigenous people, and why it is used in acne treatments today!
Incorporating Jojoba Oil Into a Skin Care Routine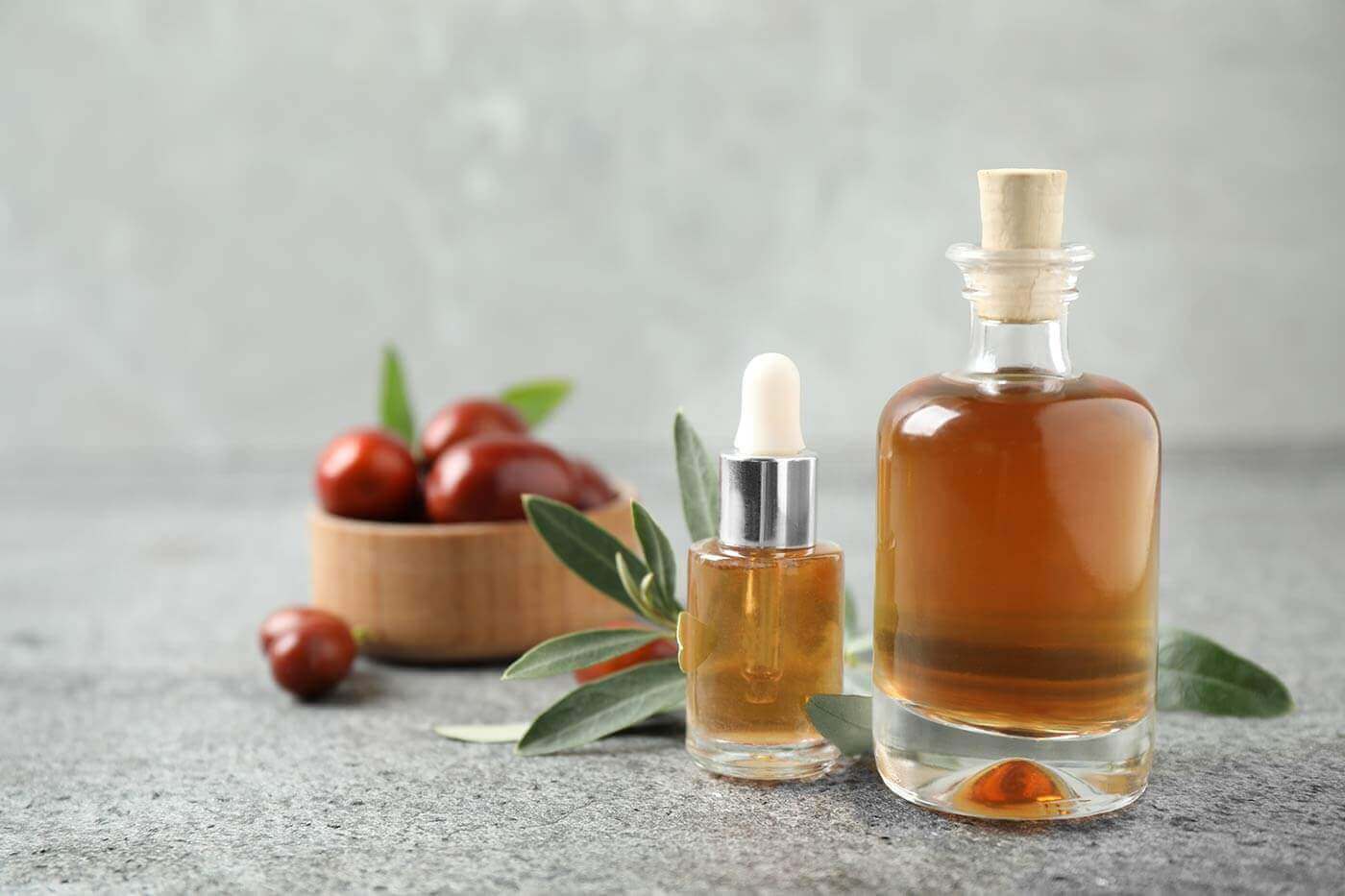 It's easy to incorporate jojoba oil into a skin care routine to experience these benefits. Most experts agree using jojoba oil is safe for most skin types, with few side effects, and can even be used on a daily basis.
Can Jojoba Oil Be Used Every Day?
How often to use jojoba oil can depend on skin type. Estheticians advise that individuals with dry skin use this oil daily. And, for those with oily skin, Jojoba oil can help normalize sebum production because the body reacts by producing less sebum when the skin senses it has more oil. So even those with oily skin benefit from regular use of jojoba oil. Our rosemary cleanser for oily skin, for example, can help curb excess oil production because it contains jojoba oil to address this concern specifically.
We strongly recommend Including jojoba oil into a daily skin care routine. In fact, we love organic jojoba oil so much that we literally put it in most of our products! Each of our cleansers and our creams contain jojoba oil which can be used twice a day for beautiful results, no matter skin type.
Purchase a high-quality cream with jojoba oil today!