Finding the right acne treatment can be overwhelming. It can be especially hard to find skin care with powerful natural ingredients that are not harsh and drying! When faced with so many options, how do we choose the best natural products for fighting acne?
Luckily, we can provide some guidance. Manuka oil is a natural ingredient for soothing and healing skin because of its antibacterial, antifungal, and anti-inflammatory properties. Let's explore the benefits of manuka oil for treating acne and how it can be incorporated into anyone's skin routine.
Manuka Oil 101
As the Cleveland Clinic explains, manuka honey originates in certain parts of Australia and New Zealand. It's a monofloral honey, meaning it's produced by bees that only pollinate the flowers found on the manuka bush, a type of tea tree. Manuka honey is a widely sought-after ingredient because of its ability to soothe sore throats, heal wounds, and even treat acne.While manuka essential oil is derived from manuka honey, it's an entirely different ingredient.
Manuka essential oil (L. scoparium oil) is used around the world, commercially, as an antimicrobial agent, and in natural remedies, for infections and other diseases. In addition to its antibacterial properties, it contains phytonutrients hugely beneficial to the skin.
Australian manuka oil is 20-30 times more effective than Australian tea tree oil at fighting gram-positive bacteria. This means it's a powerful antiseptic, hindering the growth of bacteria that causes acne.
Essentially, manuka oil is an amazing natural ingredient that stops breakouts in their tracks while supporting the skin's natural healing process. Unlike most harsh chemical ingredients used to fight acne that disrupt the skin's protective acid mantle, manuka oil doesn't disrupt the skin's barrier and still fights acne!
Manuka Oil Uses
While manuka oil for skin is great for treating acne (which we'll go into more detail on shortly), this essential oil can also be used for a host of other things, such as:
Soothing skin conditions like eczema and psoriasis
Treating itchy insect bites
Healing small wounds like cuts and scrapes
Disinfecting surfaces
Eliminating body odor (it can be used as a natural deodorant)
Manuka oil is a versatile ingredient that can help soothe irritated skin and keep bacteria at bay. Plus, it's a gentle ingredient with little to no known side effects making it safe even for sensitive skin and teenagers with acne.
Manuka Oil Benefits for Acne
When applied topically, manuka oil can do wonders for acne without wreaking havoc on the skin like most chemical acne treatments that leave the skin red, irritated and dry. While manuka oil packs a powerful punch–mitigating acne concerns, helping skin heal, and reducing inflammation–at the same time, it hydrates and nourishes the skin. Let's explore the benefits of this gentle but potent, natural, acne fighting ingredient in more detail.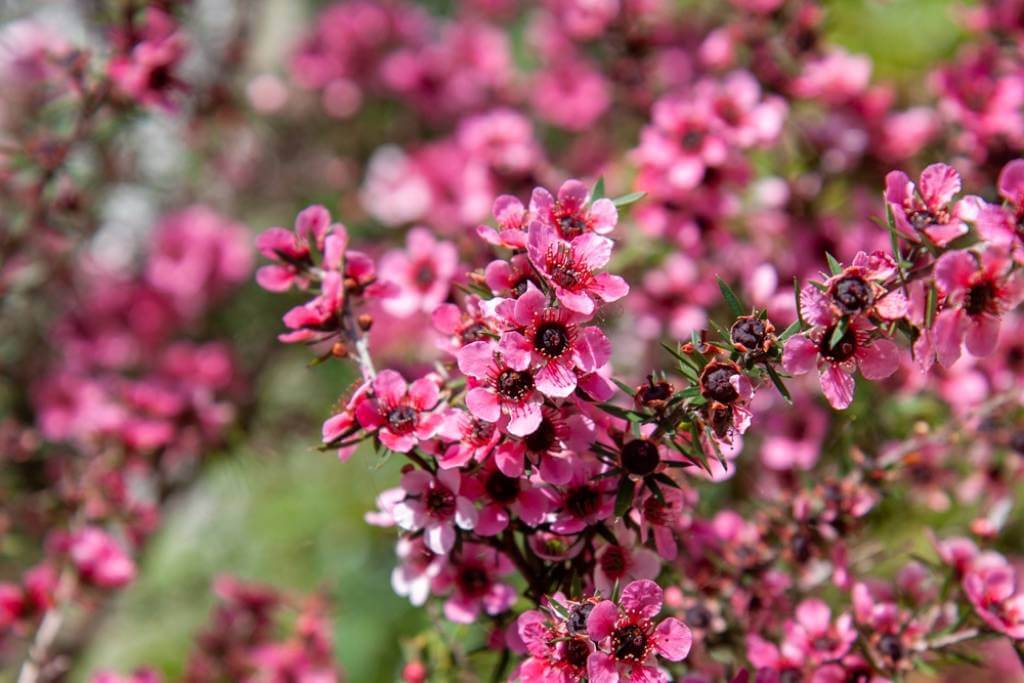 1. Antimicrobial
Acne can be a result of hormones, stress, and a number of other factors. However, it's bacteria that cause breakouts. As Healthline explains, pimples develop when bacteria grow in a clogged pore and the oil can't escape.
To treat acne, it's essential to kill and suppress this bacteria and adjust your diet to prevent oil plugs from forming. You can also have a TS Skin Care Professional remove the oil plug itself during a deep pore cleansing treatment. Manuka oil has natural antimicrobial properties which means it can help stop the growth of acne-causing bacteria before it starts.
Manuka oil for the skin can help clean these clogged pores and stop bacteria growth. Plus, bacteria doesn't become resistant to manuka oil they way it does to benzyl peroxide. By treating the root cause of breakouts, it can set the skin up for success
2. Anti-Inflammatory
Along with being antibacterial, manuka oil is also anti-inflammatory. The experts at Verywell Health explain there are two categories of acne: inflammatory and non-inflammatory. The former involves when pores are clogged and typically result in blackheads or a typical pimple. The latter is when these clogged pores become inflamed.
The inflammation can lead to red, painful acne that's most common on the face, chest, and back. With its anti-inflammatory properties, manuka oil can help soothe inflammation to help skin look and feel better as it heals.
3. Wound Healing
A small amount of manuka oil can also go a long way when it comes to wound healing. The previously cited source from the Cleveland Clinic explains how manuka honey's antioxidant and antibacterial properties also make it a powerhouse when it comes to treating wounds. Similarly, manuka honey also has a lower pH than most honey, meaning it promotes optimal wound healing.
The same holds true for manuka oil for acne treatment. The essential oil can help speed up the healing process from breakouts while also preventing infection. When it comes to treating acne, removing and stopping bacteria is the first step, and helping skin heal is the next. Manuka oil can do both!
Manuka oil is a great way to treat current breakouts while healing skin and preventing new pimples from popping up. Check out the all-natural manuka oil products from TS Skin Care to help address problem skin and breakouts today.